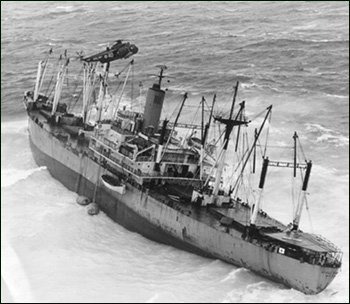 October 1971, nearing her demise on Loaita Bank Reef (near Spratly Island, South China Sea). Helicopter, from the British Aircraft Carrier HMS Eagle, evacuating the crew from the port wing of the bridge.
S.S. Steel Vendor

(See also S.S. Steelvendor below)

Built by:
Western Pipe & Steel Co.
San Francisco, CA
1944

Isthmian service: 1947-1971

Lost at sea due to stranding.
All hands survived.
7 October 1971

more.....